Short-term rentals simplified.
Whether you're considering adding an Airbnb to your portfolio, or need help with an existing one, we offer a wide range of short-term rental management, consulting, and design services to maximize your ROI in the Okanagan market.
Vacation rental management is a moving target. With property standards becoming more competitive each year as new properties enter the Kelowna market, it can be stressful for property investors to keep up. We've been running vacation rentals in the Okanagan for over 10 years. We've done it all. From design, branding, renovating, staging, improving listing quality metrics, marketing, and recruiting cleaners; to creating an impeccable online and off guest experience. Every move we make is to achieve the highest return on your investment.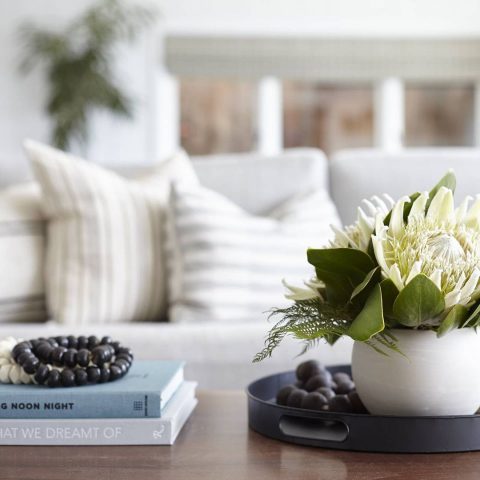 Our professional cleaners are bonded, consistent, qualified, and follow Health Canada's Covid-19 protocols.
Our optimization methods ensure your listing ranks high in search results on the top booking sites your ideal guests frequent.
Never take a guest's late-night phone call again – we take care of all communication 24/7 – even overnight.
Optimize your short-term rental for the Okanagan market with our in-house staging, interior design, and contracting services.
Get found on the high performing channels travellers are using.
Discover what your property could generate with our short term rental management services.
We invite you to stay with us and experience 5-star hospitality by booking one of our memorable and unique spaces. Need guidance on which is the most suitable for your party? Reach out to us and we can recommend one that suits your needs.
Located close to downtown, beaches, and many amenities, this coastal inspired home is ideal for anyone looking to enjoy everything the Okanagan has to offer. Featuring a king master ensuite with walk in closet and double doors, additional queen and king beds, a separate media/games room, private gym, outdoor sunken sectional seating with a fire pit, hot tub, BBQ area, and large yard with lawn games, this property is the spot to go if you desire a private expansive space in a central location.
4 Bedrooms / 6 Beds / 2.5 Bathrooms / Sleeps 11
Situated in the iconic Lower Mission resort district, with over 1100 sq ft of living space, Solace is located in the highly sought after lakefront development, Caban by Cressey. Experience true luxury lakefront living at Solace. Be one of the first to stay by reaching out to pre-book this contemporary beachfront oasis.
2 Bedrooms / 3 Beds / 2 Bathrooms / Sleeps 6
Located minutes to Sarsons beach in the picturesque Lower Mission area of Kelowna, this Nordic-inspired home is ideal for families of all types. Kick back poolside, cook in the outdoor kitchen, lounge by the fireplace in the covered outdoor living room, or play basketball in the front court. FThis property is second to none for amenities. Currently being re-designed and will launch Spring 2023.
4 Bedrooms / 6 Beds / 2.5 Bathrooms 
Located adjacent to the downtown waterfront boardwalk and Tugboat Beach, you'll have a plethora of ways to unwind in this gorgeous space. Whether it's by the pool, in the games room, at the beach, or by visiting one of the award-winning eateries or cafes in the downtown core.
2 Bedrooms / 2 Beds / 2 Bathrooms 
Located minutes from Rotary Beach, you'll have everything Kelowna has to offer at your disposal. This family friendly home is located minutes from award winning restaurants, beaches, golf courses, and wineries.  Well equipped for families and located in a quiet neighborhood, this home is ideal for your next Okanagan vacation or remote work stay!
3 Bedrooms / 4 Beds / 2.5 Bathrooms 
This airy space is situated in central Kelowna near downtown, beaches, and amenities. Outfitted with everything you need to make your stay comfortable and convenient, this space offers a more private option than a condo with unique retro surf-themed decor.
1 Bedrooms / 2 Beds / 1 Bathroom / Sleeps 4
This lakefront 2 bedroom condo is located in in the heart of downtown Kelowna in the Brooklyn building. Experience NYC loft styling paired with beautiful views of Okanagan Lake from your terrace at this newly built well situated space.
2 Bedrooms / 3 Beds / 2 Bathroom / Sleeps 6
This modern lakeview townhome is located in in the heart of the Mckinley Beach within walking distance to the beach, incredible wineries, and hiking trails.  Experience a beachy styling combined with beautiful view of Okanagan Lake from your terrace at this well situated newly built space.
3 Bedrooms / 3 Beds / 3 Bathroom / Sleeps 6